Ferro Watches Distinct 3 Vintage Style One Hand Racing Watch Grand Prix
Specifications
42 mm Polished Stainless Steel 316L CASE

48 mm Lug to Lug

13.1 mm Thick (Automatic) / 10 MM Thick (Quartz)

Double Domed Sapphire Crystal with A/R Coating (Automatic) / Flat Sapphire Crystal with A/R Coating (Quartz)

Movements:  Japan Automatic Miyota 9015 or Swiss Ronda Quartz

8 mm screw down crown

10 ATM (100 meter Water Resistance)

Soft Italian Racing Style Straps 

C3 Lume
If you are not completely satisfied with your purchase, you may return it within 30 days. Before returning items to us, please email info@ferrowatches.com to notify us and get your RA (Return Authorization) Number.
All watches are backed by our 2 year Warranty from the date of delivery. The warranty does not cover any damage on any part of the watch resulting from abnormal use, lack of care, negligence, accidents, incorrect use of the watch and non-observance of the directions provided by FERRO & CO. Watches.
WHAT OUR FANS SAY ABOUT DISTINCT 3 GRAND PRIX
One of a kind
The whole unpacking experience was nice, everything felt premium and as expected. I'm glad I got this watch it will definitely be a conversation starter for many years to come.
Sharp and unique
Band is super comfortable and the face is unique with only 1 hand on the dial.
Great Gift
Great gift for a car race fan, it bring very gratefull remembers for my childhood and expiriences. A todays watch and long time memories.
Ferro & Company Vintage Style One Hand Watch
In keeping with our vision of building high-quality unique watches with nostalgic characteristics and beauty at their core, Ferro Watches presents the Distinct 3.0 Grand Prix. It's a part of the one hand Distinct 3.0 watch collection that is inspired by none other than the prestigious Le Mans 24-hour automobile race. The Distinct 3.0 Grand Prix, as the name suggests, is a distinct timepiece - in terms of both appearance and performance. It's truly one of the masterpieces in vintage style watches that take you back in time. Endowed with all the winning qualities that embody the race, especially consistency and reliability, precision and beautiful aesthetics. Built from high-quality materials and world-class design, the watch is as eye-catching as it is reliable and as robust as it is elegant.
ELEGANT AESTHETICS THAT EVOKE A TIMELESS ERA
If you're looking to make a style statement that pays ode to a bygone era and represents the most defining attributes of the legendary race, you can't go wrong with the Distinct 3.0 Grand Prix. This classy watch symbolizes classical beauty along with purity and excellence. 
It showcases a beautiful black dial encased in a stainless steel case and covered by a domed sapphire crystal glass for the automatic movement options. The quartz movement is covered by flat sapphire crystal glass. 
When dressing for a formal occasion like work or a wedding, consider opting for Italian calf leather straps that spell luxury and elegance. For summer time and other less formal occasions, we recommend perforated racing style straps that are designed for comfort and lend a sleek appearance. 
These straps are also a great choice for racetrack drivers and other sports lovers as they prevent sweating and chaffing by giving room to breathe.
A fun unboxing experience
Distinct 3 Grand Prix Automatic series are packaged with a luxurious large veneered wooden box that enhances the overall luxuriousness and authenticity of Ferro & Company watches.
Customer Reviews
28/12/2021
Lance A.

United States
FERRO & CO. DISTINCT 3 VINTAGE STYLE RACE ONE HAND WATCH GRAND PRIX
This is my second Distinct 3 watch - both gifts from my wife, Anne. First, packaging is first rate and upon opening the well designed and crafted box, includes a polishing cloth and ID card with serial number - making the initial presentation a bit more "polished", if I may, for the price point this watch is modeled around. The next surprise is after flipping over the watch and seeing the serial number engraved on the watch - a nice touch, indeed. The "Gulf Color" race team version I received last year works perfect and seems to be on-time, all the time. Both watches use Swiss Quartz, and again, have not seen any issues with the timepiece keeping accurate time. These timepieces exude a sense of high fashion (in a Sport related way) and fit comfortably on the wrist. Often a conversation starter around friends and family, some of them race car enthusiasts, thus it is pure delight to have these watches sit comfortably on my wrist. These two are the latest to a modest, 8 watch collection, including TAG Heuer, Raymond Weil, Seiko, among others. Thank you, Ferro & Company. Best wishes, Mr. Lewin Georgia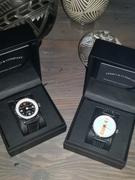 25/10/2020
John H.

Saudi Arabia
I recommend this product
One of a kind, so unique
I received my Distinct 3 Grand Prix as a reward for back the project on kickstarter in march 2020. It was the first time in my life that i back a project but i couldn't not resist the urge. It just looked amazing ,i received it on Oct 23rd and all i can say it was well worth the wait. The whole unpacking experience was nice, everything felt premium and as expected. I glad i got this watch it will defenitly be a conversation starter for many years to come.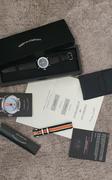 09/08/2022
Rafael H.
Mexico
Great watch
The watch is excellent; I am very satisfied with the purchase. The watch arrived very well packed; the experience for the unpacking was nice, the first thing that you feels of the watch is the weight, the very good quality and the finish. It is great looking and the hours in one single hand is great. I bought the watch as a graduation gift for my son, I wanted a watch that could commemorate this event, so I was looking for a modern watch and that would show the hours in a different way, so the Distinct 3 is great.
15/07/2022
Anonymous

United States
great watches
awesome craftsmanship
04/07/2022
Kevin D.

United States
I absolutely love my new Ferro watch!
It's great looking and extremely unique with the single dial feature. I absolutely love it and it makes for a great conversation piece as well!
30/06/2022
Kevin D.

United States
Beautiful, unique watch for sure!
The entire experience was great! Communications was awesome and delivery was quick. Best of all the watch is absolutely beautiful! The single hand watch is a great conversation piece also! I am a Porsche club of America member and can't wait to show it off at our next rally!
29/06/2022
Kevin D.

United States
30/04/2022
Ivan

United States
Good purchase
I have to say the delivery of the watch was great. It comes in a beautiful wooden box, which is a true testament of what Ferro & Company represent. The watch itself works amazingly, couldn't be happier with its performance. It quickly became my go to watch for almost every occasion. The only thing that I'm a bit disappointed on is the watch band. I've owned the watch for a little over four months and the leather on the band is peeling, which is quite concerning. Other than that I highly recommend the brand.
05/02/2022
Mateo C.

France
03/02/2022
Michael F.

United States