$599.00 USD
$599.00 USD
AGL Chronograph Quartz Green
SKU: V07
A complicated yet straightforwrd pilot watch with chronograph
The Swiss Made AGL (Above Ground Level), is a pilot watch with Swiss Quartz Chronograph and Big Date Movement. Inspired by WW2 Aviation such as Spitfire or P-51 Mustang, this watch is a must have. With 42 mm in case diameter, this watch fits most mens wrist sizes  
DIMENSIONS
CASE: 42 MM
LUG: 22 MM
LUG TO LUG: 48MM
STRAPS: 22 MM
CASE THICKNESS: 11 MM
14.1 MM WITH TOP GLASS
CROWN: 8 MM
SPECS
SWISS MADE
CASE MATERIAL: STAINLESS STEEL / BLACK DLC (DIAMOND LAYER COATED)
GLASS: DOUBLE DOMED SAPPHIRE CRYSTAL
DIAL: 2 LAYER
STRAPS: ITALIAN CALF LEATHER
MOVEMENT: SWISS RONDA QUARTZ / CHRONOGRAPH
WATER RESISTANCE: 100 METERS
AGL (Above Ground Level) is the first Ferro & Company's Swiss Made vintage Pilot style watch inspired by WW2 aircrafts such as Spitfire or Mustang P-51.
A bold design with a Swiss Ronda Chronograph Quartz movement that can be used for decates to come.
TIME FLIES. HERITAGE REMAINS
Carry a piece of history on your wrist wherever you go. This fine timepiece will be your companion and accurate timekeeper for a very long time. Thanks to its superb quality components and everlasting Swiss movement.
Customer Reviews
A Phenomenal Microbrand
Last month, I decided to step into the world of horology, and the AGL Blue Dial Chrono Quartz was my first purchase. I'm very satisfied with the quality of this watch from the materials, the feel, how it functions, and the packaging. Not only is it beautiful, but it looks like it's worth at least double the price. I've gotten a number of compliments on this watch over the weekend, and it's definitely something I would use as a daily ******.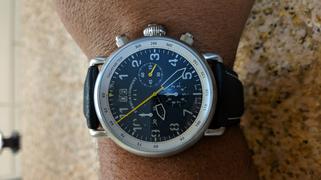 Swiss made AGL
The watch is very well made. I am a big chronograph fan and this is a new piece to my collection.