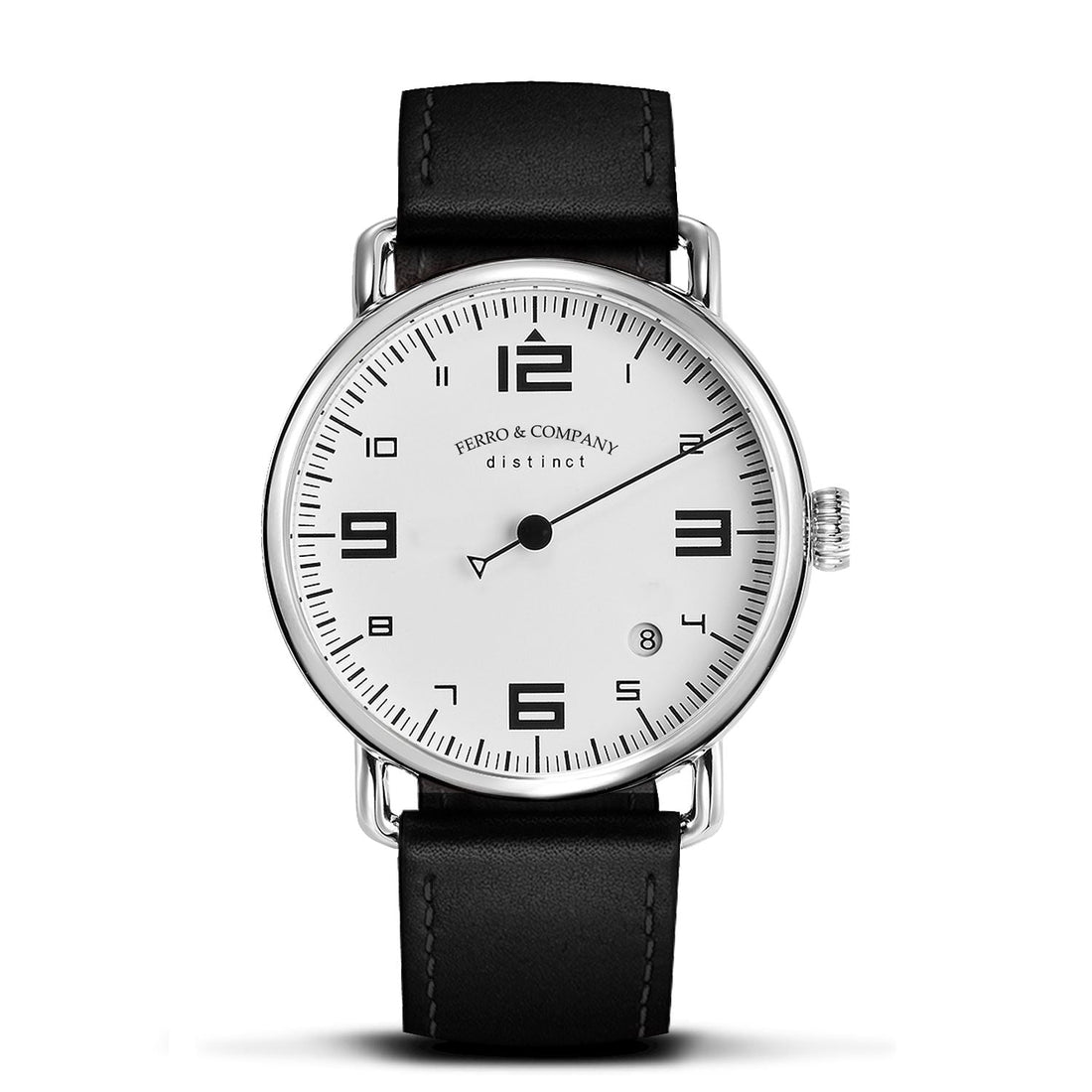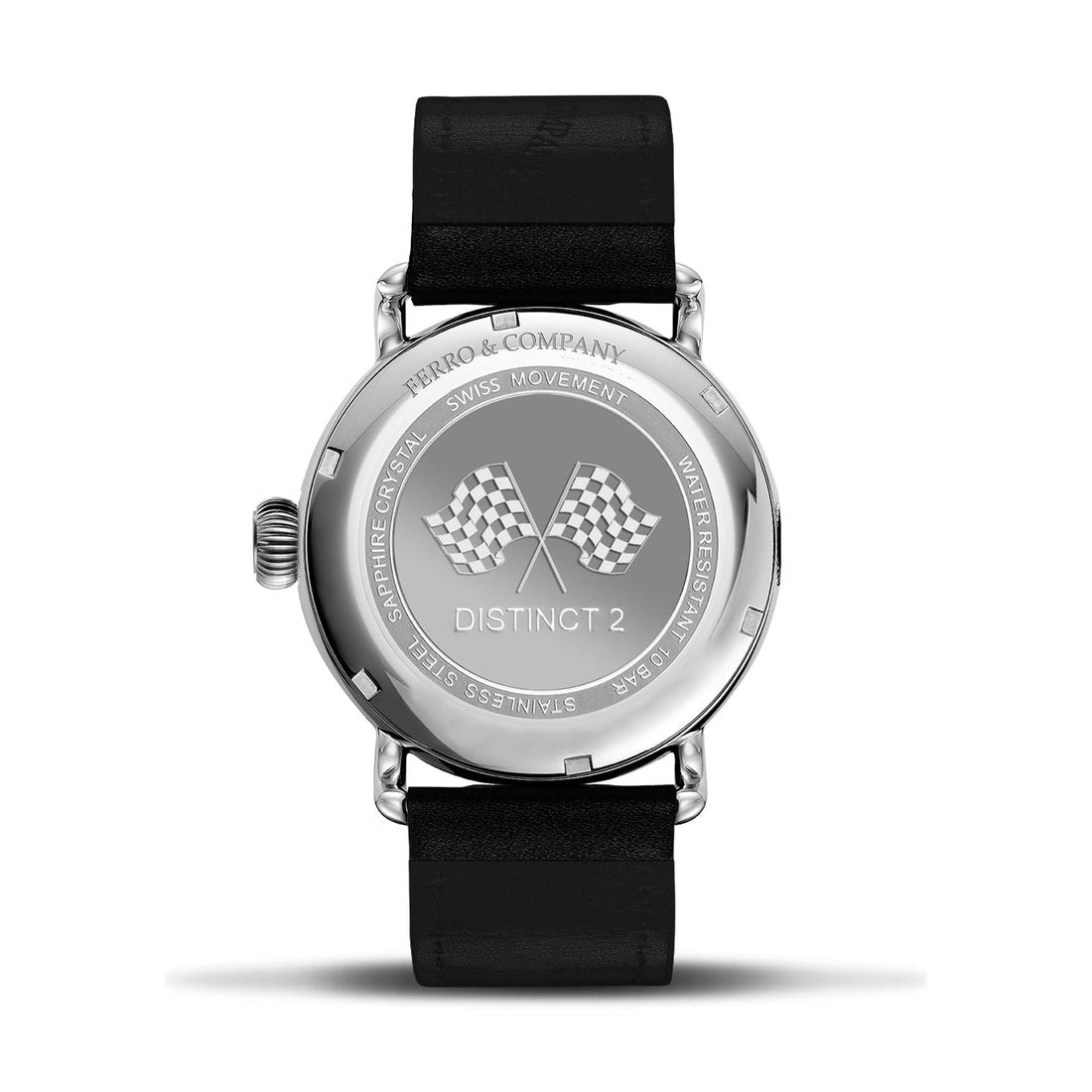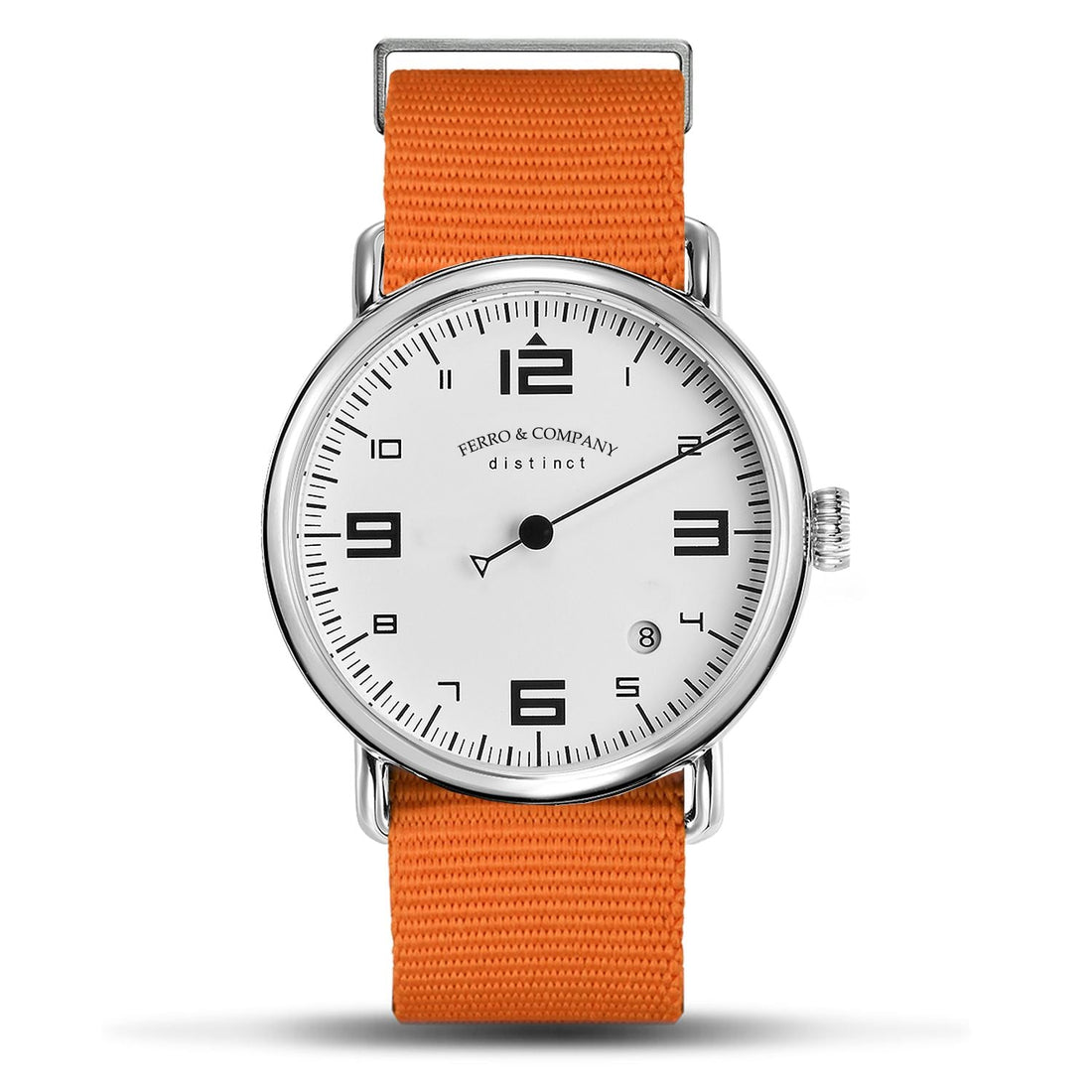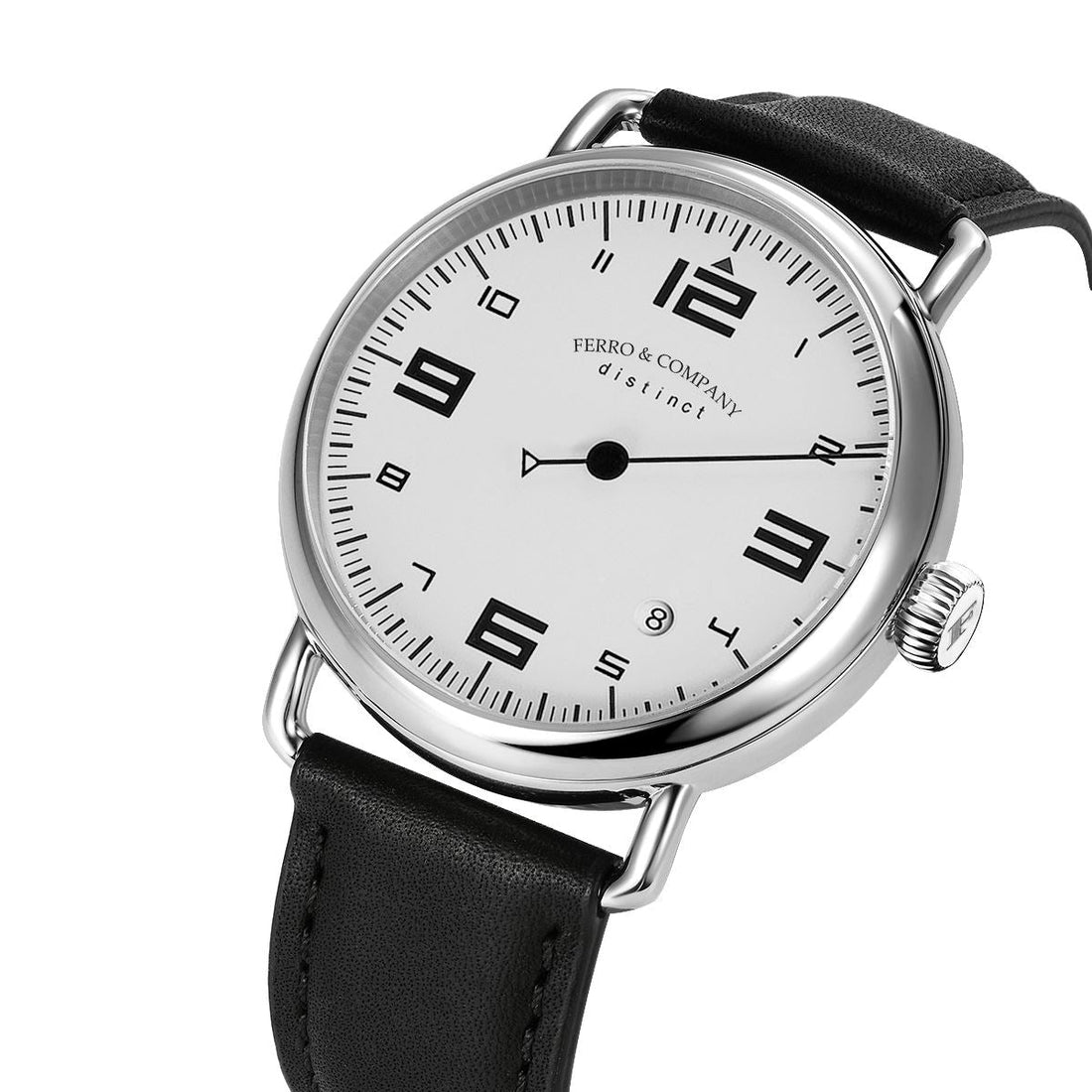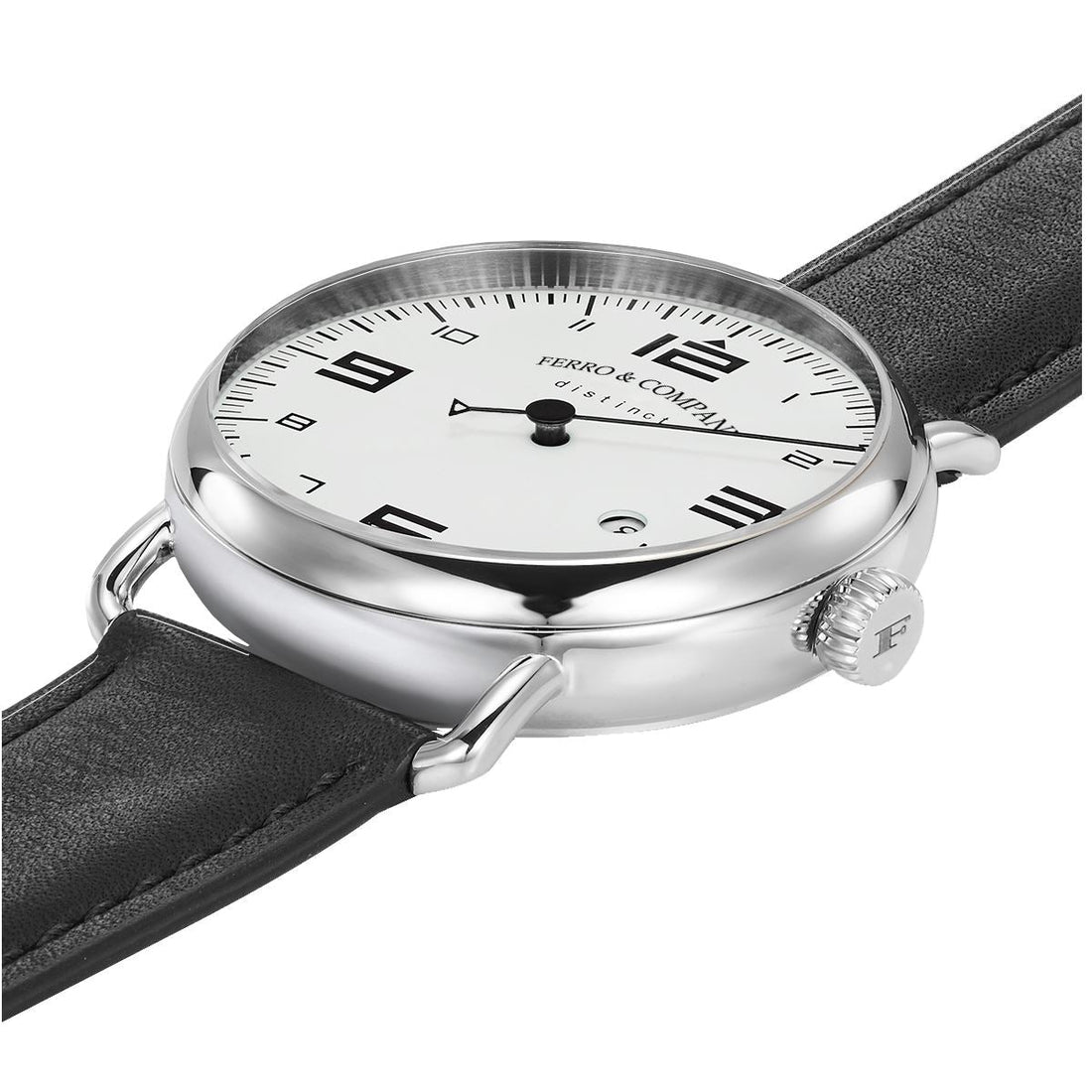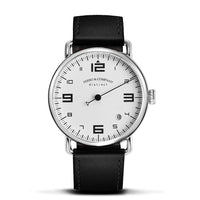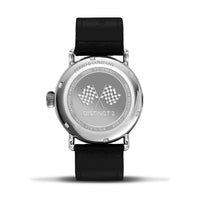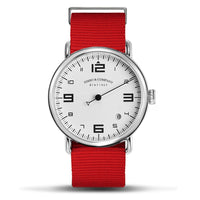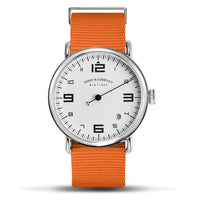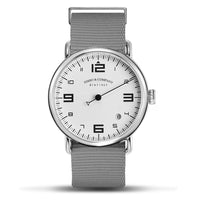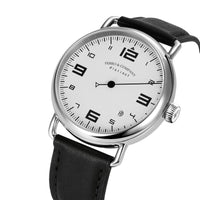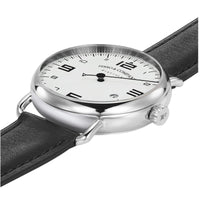 Ferro Distinct single hand Swiss Quartz Movement Watch 
White Face / Black Strap 
Case diameter

: 44 mm

Case thickness

: 11 mm

Lug width

: 22 mm

Crystal

: Scratch proof Domed Sapphire

Case Material

: Stainless steel 316L / Polished

Case back Material

: Stainless steel 316L / Embossed Logo

Strap:

22 mm leather or Nylon with Stainless Steel pin buckle

Water Resistance

: 10 ATM (100 m)

Movement

: Swiss  Quartz
If you are not completely satisfied with your purchase, you may return it within 30 days for a refund or exchange . Customers are responsible for return shipping costs. Before returning items to us, please email info@ferrowatches.com to notify us and get your RA (Return Authorization) Number.
All watches are backed by our 2 year Warranty from the date of delivery. The warranty does not cover any damage on any part of the watch resulting from abnormal use, lack of care, negligence, accidents, incorrect use of the watch and non-observance of the directions provided by FERRO & CO. Watches.
Free worldwide shipping on all watches. We ship to all countries. Depending on the destination, we use UPS, FedEx, DHL or USPS. Free shipping deliveries take 3-9 business days depending on the order destination.
CUSTOMIZE YOUR WATCH WITH THESE EXTRA STRAPS
red nylon strap
Add an additional Red Nylon strap too look bold and different
blue nylon strap
Pair your watch with a Blue Nylon strap for a cooler look
AS SEEN ON
Wonderful watch, awesome conversation piece
I absolutely adore my watch! It is a founders edition automatic, one of the firsts Distincts that shipped. It was my "real watch" and I wanted it to be special. This is it. I fell in love with the Porsche font, and the unique single hand that tells the time. I always had a little more difficulty than normal with telling the time on analog clocks, so this solution with the simplistic dial helped me tell the time much more easily. It sounds silly, but sometimes it just works and for me it did. It's always fun when someone asks about your watch and you show them it only has one hand, they always wonder how you tell the time, but for me, I can't do it without it.
Looking forward to purchasing my next Ferro!
Wessel.
My favorite weekend watch / Любимые часы на выходные
Это была любовь с первого взгляда. Простота и строгость дизайна. У окружающих постоянно возникают вопросы, куда потерялись остальные стрелки. Это мои любимые часы для выходных и отпуска, когда не нужно никуда бежать, отсчитывать минуты, можно расслабиться и неспешно двигаться сквозь день вместе с единственной стрелкой на циферблате.
---------
I fall in love with this watch from the first picture seeing on Kickstarter. Simple eye catching design. All the time getting the questions, where is the rest of the hans. This is my favorite watch for the weekends and vacation, when is not necessary to run somewhere, counting the minutes. I can allow myself leisurely move through the day wit the single hour hand of my watch.
‐------------
Ferro Distinct Quartz White Face
Luckiest guy on earth?
After buying my first Ferro, the AGL, I snatched the very last Distinct 2 in white dial at a generous discount price from Ferro. I thought I was the luckiest guy on earth ... until they announced Distinct 3 :
Great Product!!
I love watches and have a very large collection! Once I found out about Ferro and the owners I decided to give them a chance! Over the last few months I've probably purchased close to ten of their watches. Not only are they very well built Bob and Ary personally reach out when I need help! If I just wanted to buy cheap watches I could and save money!! But Customer service and quality is KING now!! Please give them a shot! You want a cheap piece of crap watch Vincero and MVMT are waiting. If you want a beautiful watch, well made and great service give these guys a chance!!! It you want a crappy watch ill have the other brands on EBay soon!!! Thanks Bob and Ary!! Keep up the great work!!!