Ferro Watches Distinct 3 Vintage Style One Hand Racing Watch GLF
AUTOMATIC VERSIONS WILL SHIP IN LATE NOVEMBER. QUARTZ VERSIONS ARE IN STOCK AND SHIP NEXT BUSINESS DAY.
Specifications
QUARTZ VERSIONS ARE IN STOCK. AUTOMATIC VERSIONS WILL SHIP IN LATE OCTOBER / EARLY NOVEMBER
42 mm Polished Stainless Steel 316L CASE

48 mm Lug to Lug

13.1 mm Thick (Automatic) / 10 MM Thick (Quartz)

Double Domed Sapphire Crystal with A/R Coating (Automatic) / Flat Sapphire Crystal with A/R Coating (Quartz)

Movements:  Japan Automatic NH35 or Swiss Ronda Quartz

8 mm screw down crown

10 ATM (100 meter Water Resistance)

22 mm leather or Nylon Straps with Stainless Steel pin buckle

C3 Lume
If you are not completely satisfied with your purchase, you may return it within 30 days. Before returning items to us, please email info@ferrowatches.com to notify us and get your RA (Return Authorization) Number.
All watches are backed by our 2 year Warranty from the date of delivery. The warranty does not cover any damage on any part of the watch resulting from abnormal use, lack of care, negligence, accidents, incorrect use of the watch and non-observance of the directions provided by FERRO & CO. Watches.
Free worldwide shipping on all watches. We ship to all countries. Depending on the destination, we use UPS, FedEx, DHL or USPS. Free shipping deliveries take 2-9 business days depending on the order destination.
USA & CANADA: 1-5 Business Days
EUROPE: 3-9 Business Days
REST OF THE WORLD: 3-9 Business Days
Elevate your Race Style with these Nylon straps
You can't drive fast, but you can look fast with these matching Nylon straps. Get them with this watch and save 25%
WHAT OUR FANS SAY ABOUT DISTINCT 3 GLF
A really nice watch
Goes very well with my MINI Cooper S Cabrio and the Grand Prix Originals GULF leather jacket. Le Mans feeling on the wrist, great!
That's great!
I'm enjoying having this DISTINCT 3.0 in my car because it's so nice to look, and so delicate.
very happy
Not only is this watch fun and a nod to motoring enthusiasts-it is actually a very well made time piece to be proud of. I really enjoy wearing this timepiece. The extra nylon strap is a must buy with this watch.
Wow is the word
I have a lot of watches valued at thousands of dollars more but non get the attention and compliments that this watch does. The transaction with Ferro & Company was smooth and trouble free and as important this watch keeps perfect time. Thanks for a great watch!
Spice up your GLF Watch
Nylon Racing Strap
Opt in for a racing style Nylon strap that perfectly matches your GLF watch.
Simply look for it further up this page right below the Orange "Add to Cart" button above. You will see this strap with a light Green "ADD TO CART" button.
MATCHING NYLON STRAPS
COMPLIMENT YOUR DISTINCT 3 WATCH WITH A MATCHING GLF STRAP
DISTINCT 3.0 GLF onE HAND WATCH
The Distinct 3.0 GLF is a watch like no other. It is truly distinct, as it's inspired by Classic Le Mans, the prestigious vintage race that conjures images of intense excitement and thrills. It doesn't get more adrenaline-pumping than the action-packed scene at this race, which is held annually near the historic and beautiful town of Le Mans in France.
Sleek sports cars designed to perfection and propelled by engines that have undergone several rounds of thorough test runs push the limits of stability at incredibly high speeds. The race underscores reliability, fuel-efficiency, and excellent aerodynamics as cars push the proverbial envelope in this endurance race filled with pressure and nail-biting moments.
Similarly the Distinct 3.0 analog watch, inspired by the legendary race, has been carefully engineered to perfection. Ranging from its design and high-quality components made of fine materials to its thorough specifications and precise and fool-proof movements, everything about this watch is flawless.
BUILT TO LAST WITH ROBUST MOVEMENTS
Like the historic car race that inspired it, the Distinct 3.0 GLF has been crafted to last for generations, embodying endurance and a robust performance. Its nonstop movements reflect the 24-hour bustling action packed activity at the much-awaited race. Take your pick from Swiss Quartz and Japan Automatic as the Distinct 3.0 leverages the power of these precise movements that last for a very long time, eliminating the need for any batteries (except the quartz movement).
The Distinct 3.0 watches are driven by intricate movements that can last for generations, celebrating strength and survival. The Miyota caliber 9015 boasts of a ball bearing rotor, 24 jewels, and a power reserve of 42 hours. It is an automatic Japan movement that works very precisely with 28,800 half oscillations per hour. The Swiss Quartz Ronda Caliber 715 movement is also available with this watch as it is an extremely accurate movement with a long lasting battery life of over 3 years!
The watch truly exemplifies the built-to-last fortitude that is relentlessly tested in the Le Mans. Furthermore, it makes it extremely easy for you to keep track of time, of which every second counts throughout the thrilling, highly anticipated race every year.
unboxing of distinct 3 glf
Distinct 3 GLF Automatic series are packaged with a luxurious large veneered wooden box that enhances the overall luxuriousness and authenticity of Ferro & Company watches.
AS SEEN ON
Customer Reviews
25/01/2022
Campbell

Canada
Speechless
I got my Distinct 3 watch in the mail yesterday.I was so impressed by the packaging of the watch sent in the mail.So I immediately thought this company knows about customer service.Then after taking it out of the cardboard I was once again impressed.First by the thank you note with my name on the card.And then the beautiful box my watch was enclosed in.I then opened the box and saw the watch.Stunning.I have been after this design since I saw the Lemans movie starring Matt Damon.And then when I saw that it had just the one hand(something I didn't know when I put the order in)I was so happy.Because I knew that I was the owner of such a rare watch that will be a talking piece from others every time I don it on my wrist.It's an amazing piece of functional art.Worth every penny.I am so impressed by it.It's so unique.Well done Ferro.
14/01/2022
Paul A.

Canada
23/12/2021
Howie R.

United States
A little understated even with the Gulf colors. And I like it...
So for some strange reason I thought this watch was going to be a bit loud-bright in fact. I was at first annoyed, but then I really liked that it wasn't all up in my grille. I've only worn it once but it is the perfect size on my wrist, and, AND it looks pretty swell to boot. I try to only buy mechanical automatic watches and this fits really well inside my nice, custom-made watch box. I don't pretend to be a watch connoisseur in any shape or form, but I like watches and this is a pretty neat one. I feel confident that I will purchase a second Ferro & Company watch very shortly. I just want to wear this one a couple of more times to get a feel for the weight, and then place my order for the automatic Petrol. I really like that black face but wish it had a black case as well. Matte black would be wicked good on that bad boy. So my words are down and now I must go wear my new wrist toy. Well tomorrow coz it's 10:30pm and it's almost Christmas Eve. I hope folks will look at these watches and see that they are well-designed and the attention to detail is pretty darn good. Safe holidays to all the Ferro work folks and the soon-to-be Ferro watch wearers of the world. Stay safe y'all. P.S. I couldn't find the button to upload my images so I suppose you'll have to trust me that it is a swell looking watch item.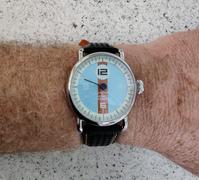 14/08/2021
Daniel

United States
05/08/2021
Moshe F.

Israel
Masterpiece
This is a work of art, I love it.
19/04/2021
Blake C.

United States
Unique and Quality Timepiece
Love the design, quality pricing of my GLF watches. I ordered two with the Japanese automatic movement. The wooden box presentation and two watchbands were an added benefit.
31/10/2020
Joseph N.

Australia
I recommend this product
Awesome watch
Pictures don't this watch any justice. The Gulf Oil colour scheme is so perfect with this style. The orange tip on the hand is an excellent touch. I think the black leather strap with the orange stitching compliments the watch colour scheme and presented in a classy wooden box. This watch has a great vintage look with modern day movement and the unique single hand to tell the time which is then capped off with Porsche inspired numbers. If you like the vintage Porsche 911 then this watch will appeal to you.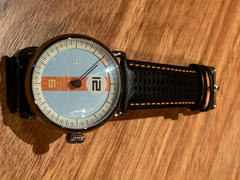 24/09/2022
Anonymous
United States
Nice watch
The watch looks as good as the pictures. The watch seems well made with a good leather strap. In the dark the illumination on the face is good but I cannot see the hand. I really like to wear this watch.
18/09/2022
Sebastian

United Kingdom
Gulf style racing watch
This is my second purchase. Received it swiftly to the uk. Smart and fun racing watches made extremely well. Definitely a must for the car enthusiast. I love both my watches and folk always comment and are surprised by the modest brand and pricing for such quality.
15/09/2022
Anonymous

United Kingdom
Fantastic Watch
I am a watch collector, and I am always looking for something different for my collection; this is my first Ferro watch; the design is great, the watch is really good quality, and looks fantastic. I would highly recommend a Ferro watch to anyone, if you are a collector or not. I have seen some of the new designs, I will defiantly be back for more :) Also, thank you to Bob for the great support