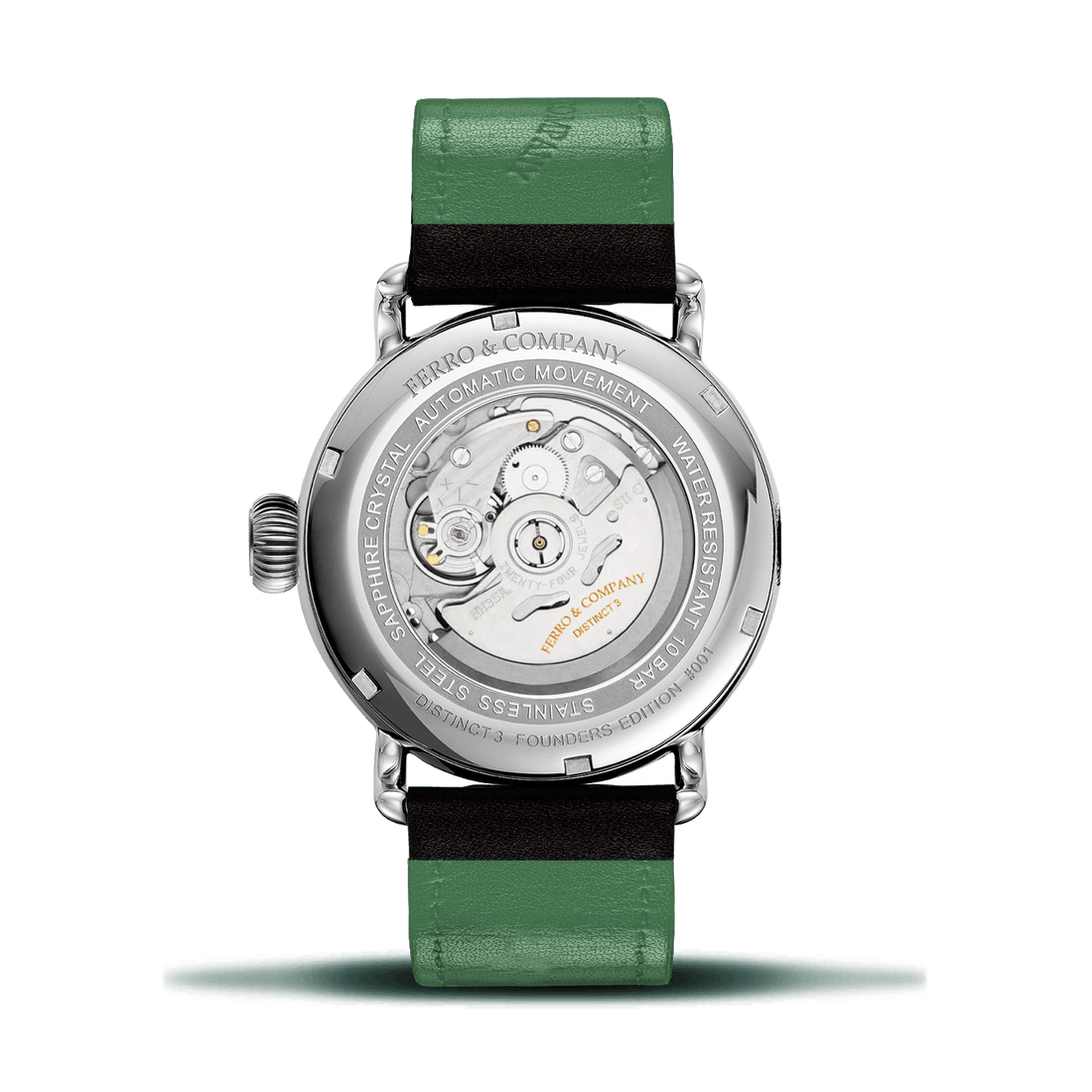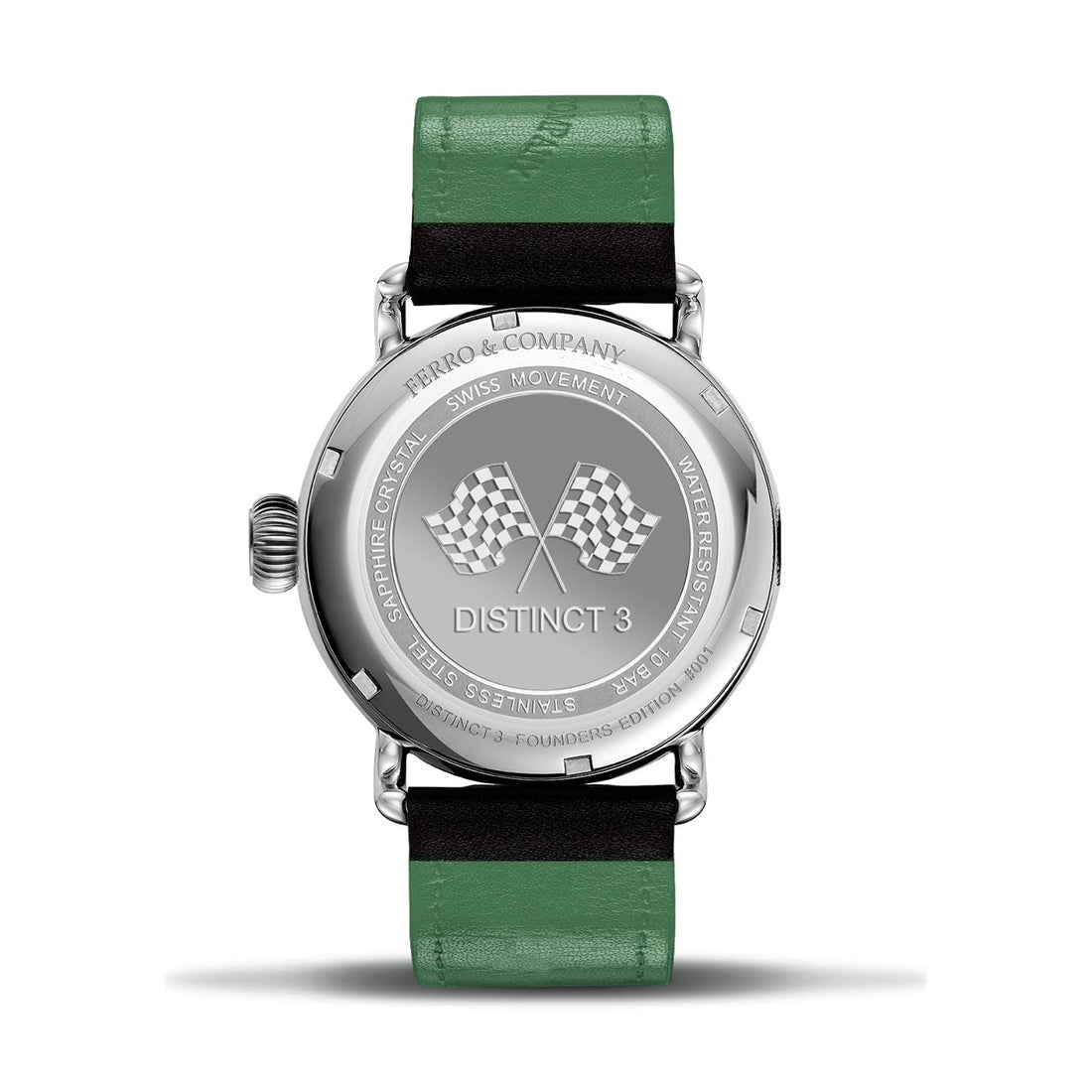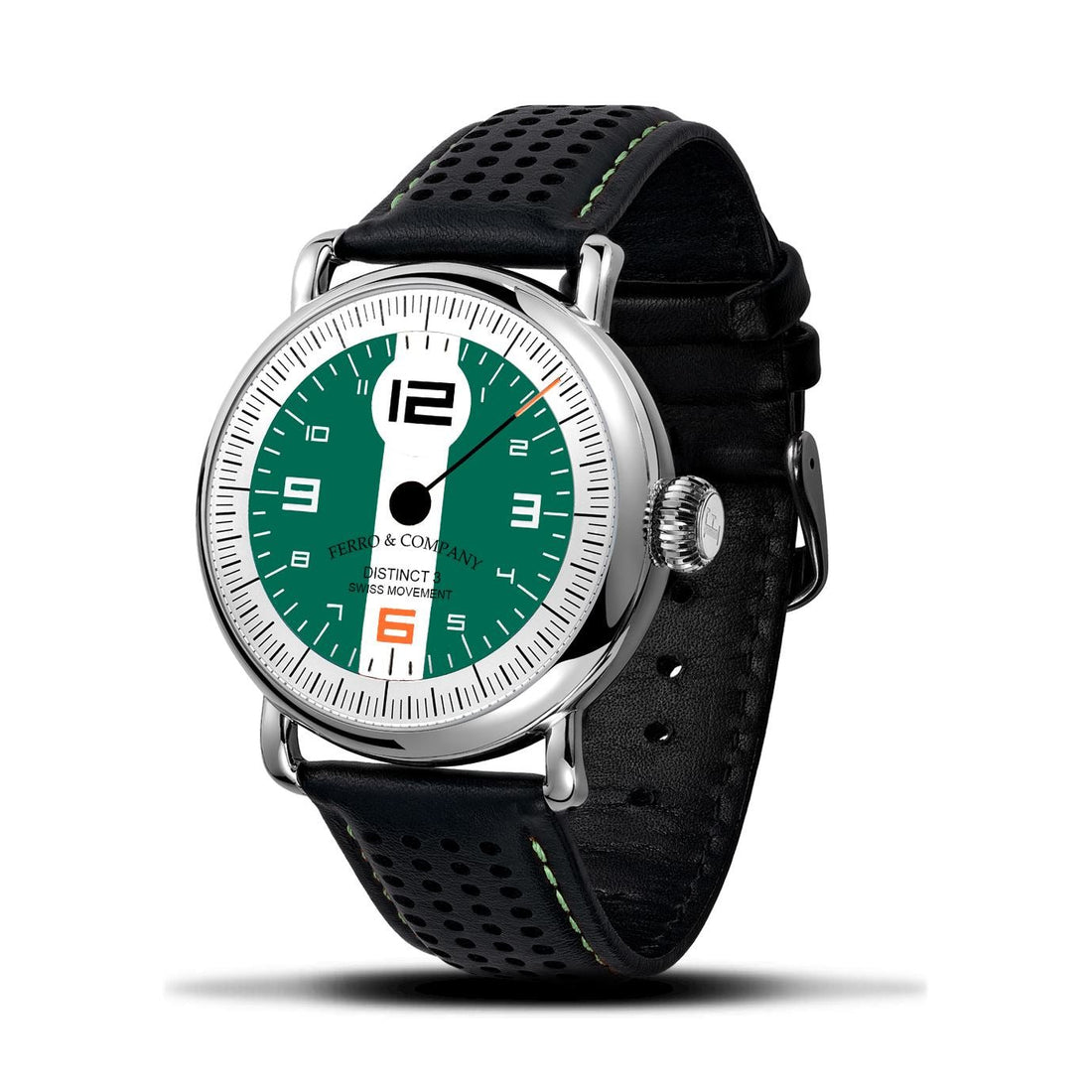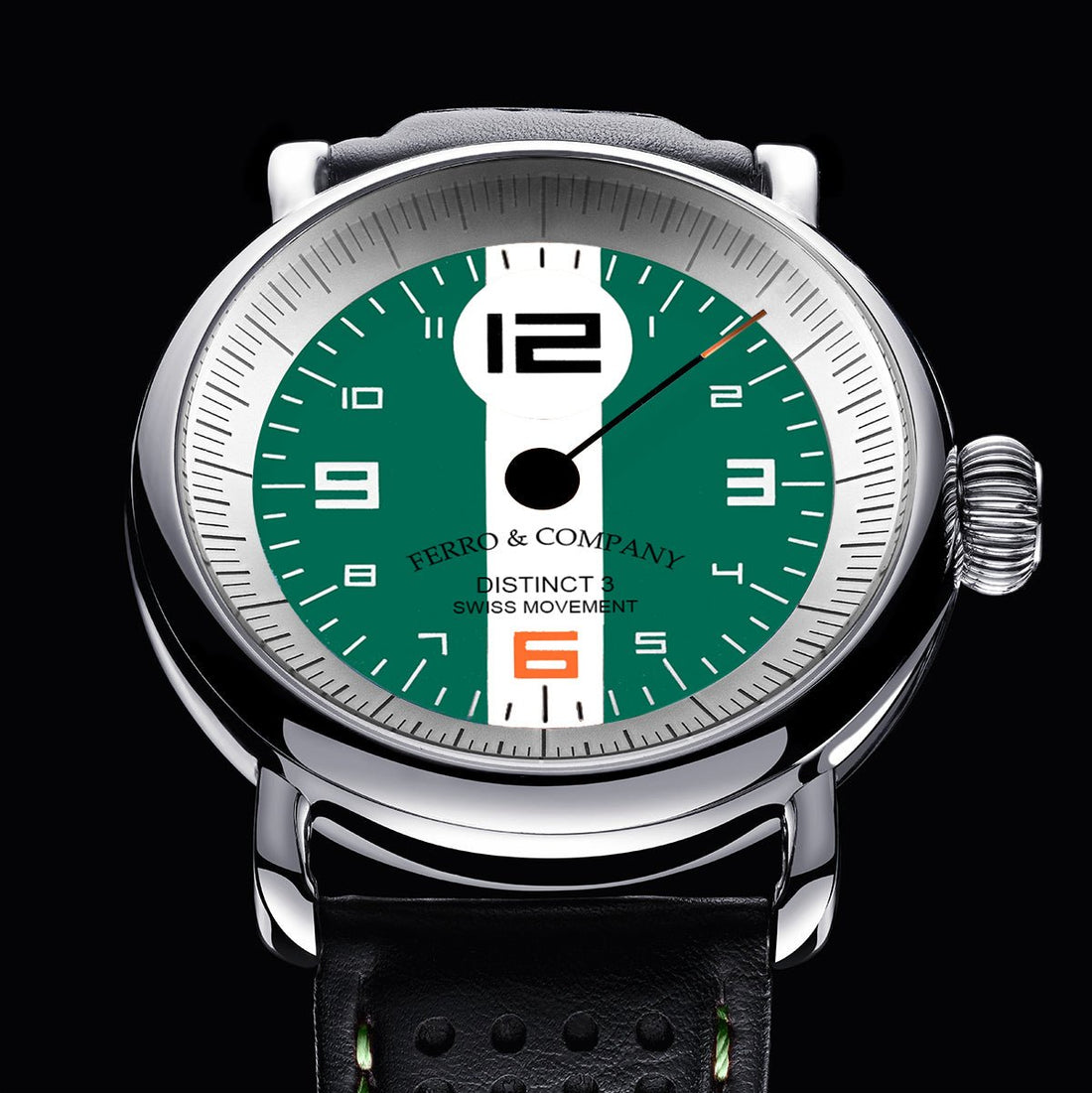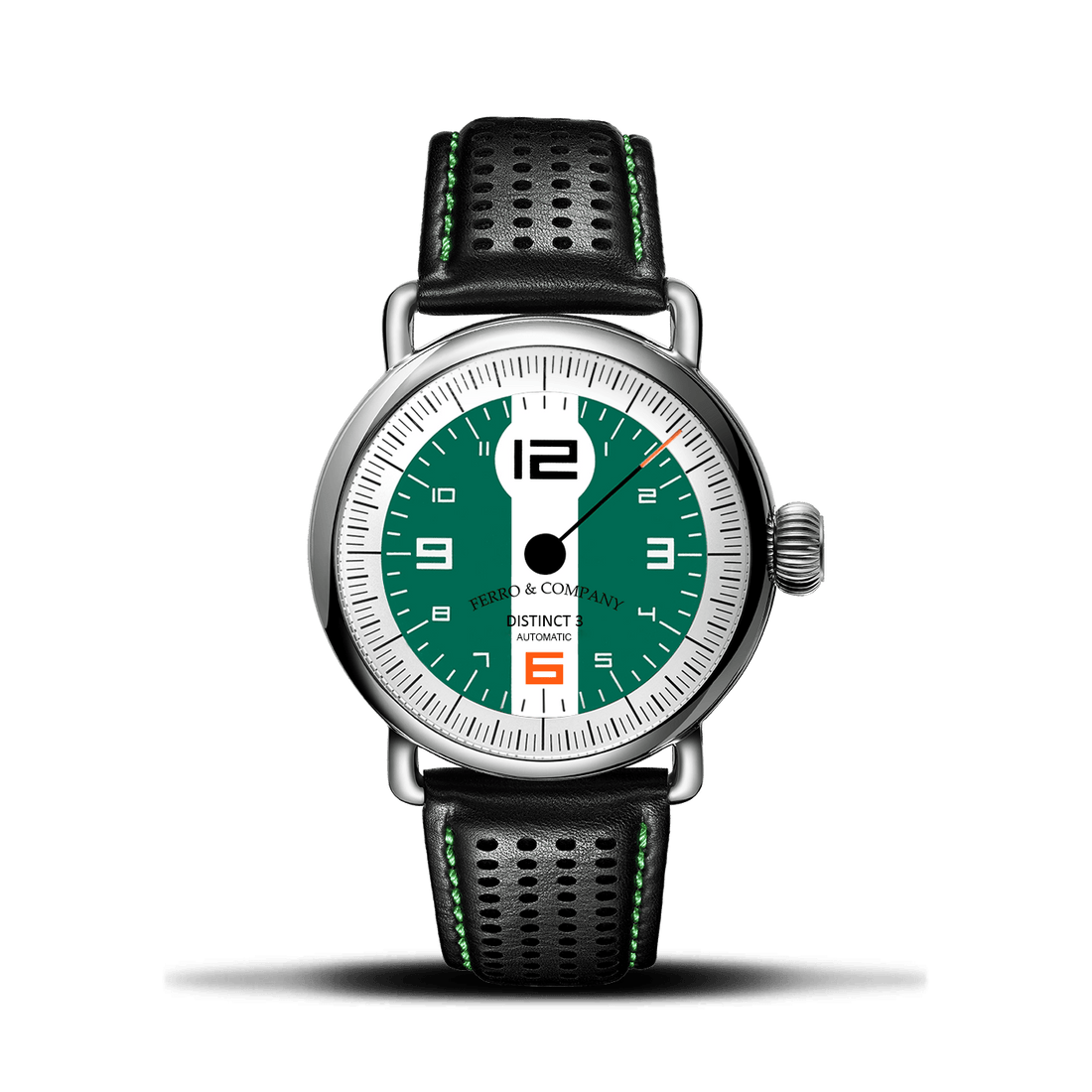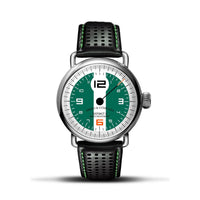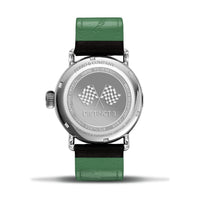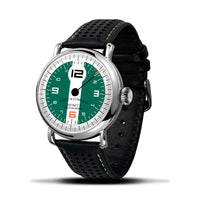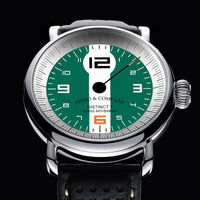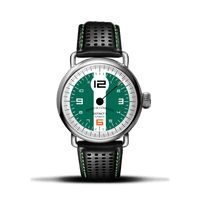 Distinct 3 British Racing Green


42 mm Polished Stainless Steel 316L CASE

48 mm Lug to Lug

10 MM Thick 

Flat Sapphire Crystal with A/R Coating 

Movement: Swiss Quartz or Japan Automatic

8 mm screw down crown

10 ATM (100 meter Water Resistance)

Soft Italian Racing Style Straps 

C3 Lume
If you are not completely satisfied with your purchase, you may return it within 30 days. Before returning items to us, please email info@ferrowatches.com to notify us and get your RA (Return Authorization) Number.
All watches are backed by our 2 year Warranty from the date of delivery. The warranty does not cover any damage on any part of the watch resulting from abnormal use, lack of care, negligence, accidents, incorrect use of the watch and non-observance of the directions provided by FERRO & CO. Watches.
Free worldwide shipping on all watches. We ship to all countries. Depending on the destination, we use UPS, FedEx, DHL or USPS. Free shipping deliveries take 2-9 business days depending on the order destination.
USA & CANADA: 1-5 Business Days
EUROPE: 3-9 Business Days
REST OF THE WORLD: 3-9 Business Days
expertly crafted for the true race enthusiast
Elevate your racing style with our precision-engineered race-inspired watch, designed to give you the edge you need to conquer the track.
British Racing Green History
British Racing Green is one of the most iconic colors of the auto racing world that originated in 1903 with the Gordon Bennett Cup in Ireland.
Gordon Bennett was a wealthy American business man that organized the annual race pitting different countries. The Cup competitions were city-to-city races, with entrants required to have their cars entirely manufactured in their home country.
To make national identification of the participants easier, each country embraced a national racing color. They were: Yellow for Belgium, White for Germany, Blue for France and of course Green for Britain; hence,
the British Racing Green was born.
AUTOMATIC ROBUST MOVEMENT
SELF-WINDING SEIKO NH35 MOVEMENT
The NH35 movement is a coveted choice among watch enthusiasts worldwide, sought after for its impressive accuracy, durability, and low maintenance requirement. It is a top choice for discerning watch manufacturers and aficionados who demand precision and reliability.
Featuring 24 Jewels, a self-winding mechanism with sweeping seconds hand and a 41-hour power reserve.
THE SWISS QUARTZ MOVEMENT
powered by ronda 715
Renowned worldwide for its precision, durability, and extended battery life, the Swiss Ronda 715 Quartz movement is the top choice for both elite watch manufacturers and collectors alike, thanks to its exceptional timekeeping accuracy and low power consumption, offering an unparalleled experience of Swiss engineering excellence for those who demand the very best from their timepieces.
time reading with a single hand watch
The 12-hour dial is divided by 144 marks. Each mark represents 5 minutes. The combination of the bold 15, 30 and 45-minute marks and the prominent needle pointer make it easy to read time. Below are 2 examples:
AS SEEN ON
Fabulous watch
The watch is amazing, I want to thanks the customer service section in the company, they were very professional.
Beautiful Packaging, amazing leather band and the single hand dial
Booking was easy real easy, took me only around 3 days as there are so many amazing dials with options , leather and the nylon racing band also made the selection even harder... Its going to be difficult to stop ordering a few more watches... Although shipment is really fast and effective with FedEx Pls note there is a surprise of additional taxes and customs customer needs to take account for which is quite substantial. Maybe ferro can highlight that while ordering
Thank you for your review Rohit. US and Canadian customers do not pay any import taxes (As we ship from US and Canada). As for other countries, each have their own import tax and duty regulations and is out of our control. Thank you in advance for your order.
The most amazing Single Hand Racing Green Gorgeous Ferro Watch :))
Ferro rocks !! and I will be matching the paint job wrap on my Dinan Race Modified BMW 650i drive Grand Coupe with the same colors Black and Green Racing Stripes....will send a pic of that when done with my Ferro :) Service from Bob et al is exemplary !! Just keep improving on the delivery times am aware its one of a kind and takes time )) yet we are all impatient :)) Don't block twice get your own Ferro you won't be disappointed Best and Blessings !! Doc AJ :)
2nd purchase - British Racing Green
Fantastic experience. Love the Gulf Livery so much had to buy the British Racing Green series.
Repeat customer
Great to deal with and delivery was on time
Bought 2 watches and have a third on order