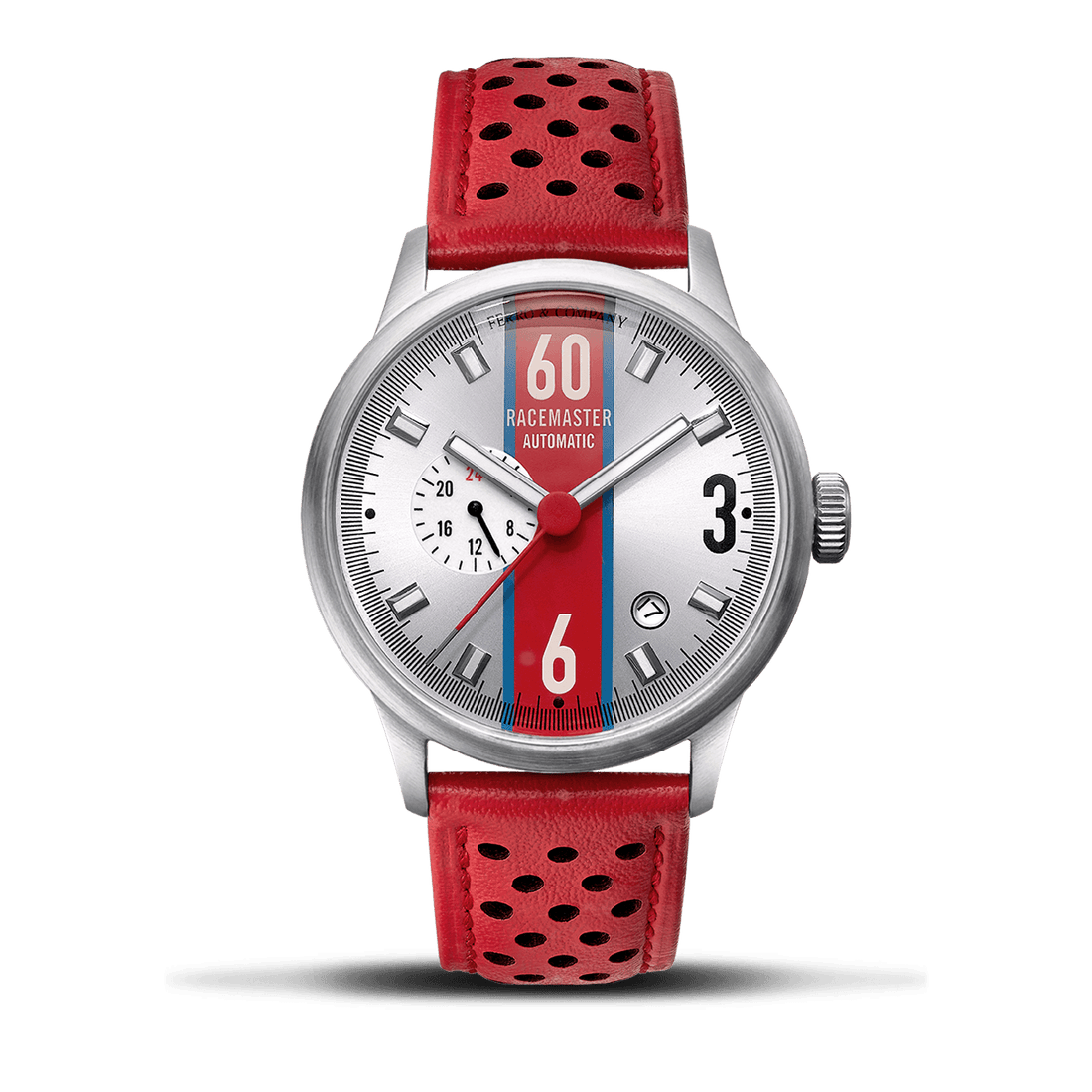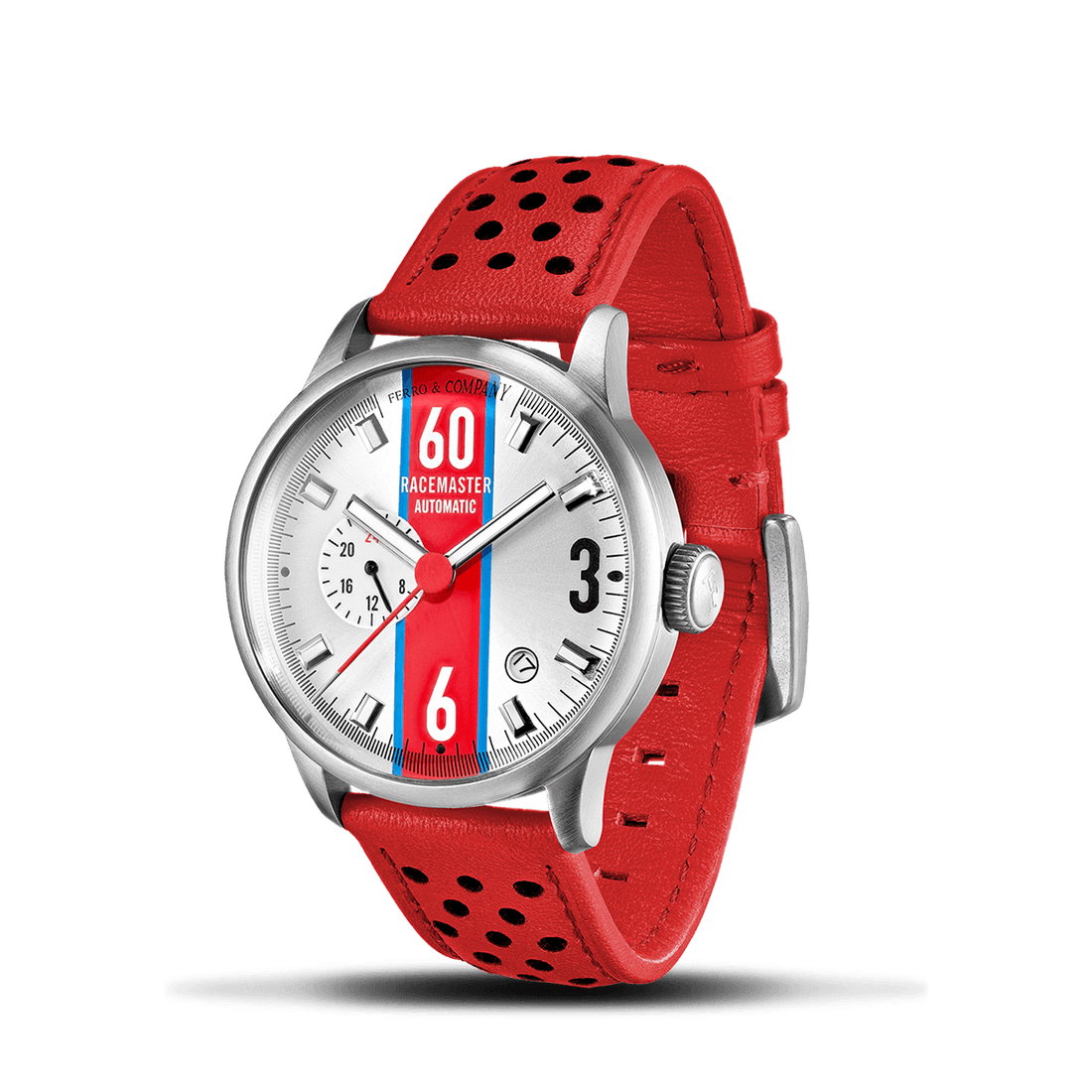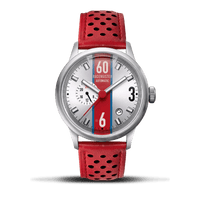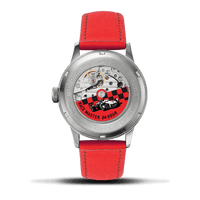 Race Master Automatic Silver
39 mm Brushed 316L Stainless Steel Case

45.2 mm Lug to Lug

13.4 MM Thick 

German Made Hesalite Box Domed Crystal


Movement: Japan Automatic Miyota 8217-24 Hour Display

7 mm Crown

5 ATM (50 meter Water Resistance)

Soft Italian Racing Style Straps 

C3 Lume
If you are not completely satisfied with your purchase, you may return it within 30 days. Customers are responsible for return shipping costs. Before returning items to us, please email info@ferrowatches.com to notify us and get your RA (Return Authorization) Number.
All watches are backed by our 2 year Warranty from the date of delivery. The warranty does not cover any damage on any part of the watch resulting from abnormal use, lack of care, negligence, accidents, incorrect use of the watch and non-observance of the directions provided by FERRO & CO. Watches.
Free worldwide shipping on all watches. We ship to all countries. Depending on the destination, we use UPS, FedEx, DHL or USPS. Free shipping deliveries take 2-9 business days depending on the order destination.
USA & CANADA: 1-5 Business Days
EUROPE: 3-9 Business Days
REST OF THE WORLD: 3-9 Business Days
A WATCH FOR THE CAR ENTHUSIAST
Nothing feels better than going for a cruise with your favourite car and a Race Master vintage style race watch.
A RACING THEME COLOR
Silver, Blue, Red. This racing color theme has been widely used by Porsche and was first introduced in the racing world in the 60's with MW3, a Formula Three car built in 1968.
AS SEEN ON
Silver Race Master
An outstanding addition to my timepiece collection! I've been a race car fan for over 50 years and I'm very knowledgeable of the Gulf Livery. Mike
Wow! Love this Watch! Red Car & Now A Red Watch!
Wow! This watch exceeded my expectations. It feels great on the wrist and plus it looks good. The back of the watch has a unique design style. The C3 lume is very strong. Plus, the value is great. I have been searching over a year for the most appropriate watch to go with my car. This is perfect. You will not regret the purchase.
Arrived 🥳
I finally got my Ferro & Company Watch!
Race Master Automatic Silver model with a gift 🎁.
Leather Travel Pouch Black.
Thank you Ladies and Gentlemen!
Really good, but could be better
After having this for a short time, the watch is very eye catching, with the silver and red dial and the bright red strap. It's also extremely comfortable and amazingly accurate for an automatic losing only 1 second a day. The crown however is not great, the winding is very rough, almost chunky feeling and when setting the time, the second hand moves 2-4 seconds as the minute hand moves. Being a pre-order that was delivered almost 2 months after the original delivery date window, I don't feel like sending it back for warranty work and having it gone for another undetermined amount of time. Beautiful, comfortable, accurate, but needs better quality control.
Hello,
Thank you for sharing your review. We truly value customer satisfaction and want to ensure that all our customers are happy with their purchase. It's important for us to address any concerns or issues promptly.
We want to clarify that we haven't received any previous emails from you regarding the problem you mentioned. However, please rest assured that we are committed to resolving this matter for you. I will personally send you an email shortly to discuss your specific issue and find a solution that meets your needs.
Once again, we appreciate your feedback and thank you for choosing to shop with us. We are dedicated to providing exceptional customer service and ensuring your satisfaction.
Looking forward to assisting you further.
Great watch for the enthusiast
I decided to give the brand a try and I am not disappointed. The watch is of perfect proportions for my wrist and is fun to wear. The leather strap is soft and supple and I love the distortions created by the domed crystal.