Ferro Watches Distinct 3 Vintage Style One Hand Racing Watch Petrol
Specifications
42 mm Polished Stainless Steel 316L Case

48 mm Lug to Lug

13.1 mm Thick(Automatic). 10 MM Thick (Quartz)

Double Domed Sapphire Crystal with A/R Coating (Automatic) / Flat Sapphire Crystal with A/R Coating (Quartz)

Movement:  Japan Automatic Miyota 9015 or Swiss Ronda Quartz

8 mm screw down crown

10 ATM (100 meter Water Resistance)

Soft Italian Racing Style Straps 

C3 Lume
If you are not completely satisfied with your purchase, you may return it within 30 days. Before returning items to us, please email info@ferrowatches.com to notify us and get your RA (Return Authorization) Number.
All watches are backed by our 2 year Warranty from the date of delivery. The warranty does not cover any damage on any part of the watch resulting from abnormal use, lack of care, negligence, accidents, incorrect use of the watch and non-observance of the directions provided by FERRO & CO. Watches.
Free worldwide shipping on all watches. We ship to all countries. Depending on the destination, we use UPS, FedEx, DHL or USPS. Free shipping deliveries take 3-9 business days depending on the order destination.
What our fans say about Distinct 3 PETROL
Love it!
I've looked at the Distinct 3.0 Petrol and the Grand Prix for some months now, and finally treated myself to the Distinct 3.0 Petrol. Watch looks awesome, keeps excellent time and is obviously very, very unique. With the one hand sweep it takes about 30 seconds to relearn how to tell time. Friends and family are impressed with it. Very happy with my purchase, now looking at the one hand watch yellow dial quartz.
Exceeded MY expectations
Very satisfied with my purchase, great service from Ferro & Company. Unique looking and elegant watch. Very accurate timepiece. The black face is easy to read. The watch, the straps, the wooden box it was packed in all feels very high quality.
Great customer service
Thank you so much for giving the opportunity to your customer pay overtime purchase,.. great company service,.. very happy with my Watch!!
A PLACE AND TIME LIKE NO OTHER
From the sweet revving sound, to the exciting smell of petrol and burnt tires, to Le Mans 24-hour race, where bold and fearless drivers race the unbelievably fast cars. This is where, everywhere is quite except you hear the extremely loud engines and your own heartbeat. Hands sweating, teeth grinding, eyes wide open and heads turning for 24 hours.
The Distinct 3.0 Watch series is all about these thrilling memories where unbelievably fast cars and bold drivers race for 24 hours none-stop to push their limits fearlessly.
Le Mans is the oldest active sports car race in the world for endurance racing, and has been called the "Grand Prix of Endurance and Efficiency". The same moniker could be given to the Distinct 3.0 Petrol Watch--the Grand Prix watch of endurance and efficiency. Regardless of which movement you choose-the Japanese Miyota caliber 9015 Automatic, or the Swiss Quartz--this is a watch with the endurance to last a lifetime and be handed down from father to son, a watch that makes a statement now and always will.
And just like the Le Mans race, this watch turns the heads of all who see it. From its gorgeous face that evokes the heat of the race, iconic and classic with a modern flair, to its entrancing sapphire crystal back so you can see the intricate and ingenious movement, this is a watch that gets attention. And durable? From the perforated leather racing style Italian straps to the 100 meter water resistance, the Distinct 3.0 Petrol Watch is one that will last not just as an heirloom but as a daily watch that you can take anywhere, anytime. A watch that's as at home in the boardroom as on the boardwalk, from the pits at Le Mans to the top of the Alps.
When a Watch is More than a Watch
Let's face it: there are times when you just want to know what time it is, but there are times when you want to make a statement. This watch is not just a timepiece. It is more than just its movement and its durability. This watch is a work of art. Ferro and Company has created a one-of-a-kind watch with the Distinct 3.0 Petrol that lives up to its name: distinct. This is a watch that not only will grab your attention as you read the time, but it will draw glances from all around the room. 
And you'll never feel closer to Le Mans than when you're driving the streets with the Distinct 3.0 Petrol on your wrist. You'll feel empowered, emboldened. Your mind will go back to street races and boyhood challenges, and you'll feel like you were back in your youth, a kid again, with endless possibilities ahead of you as you make every lane change and smooth every turn. 
So go ahead. Indulge yourself. A watch like this doesn't come along every day, but neither do you. You won't pass this way again--you're on the move, ever changing. Stop and take something that will last with you, but something that will encourage you to be on the go every minute. 
Buy the Distinct 3.0 Petrol Watch now!
THE ENGINES
Just as Le Mans cars are powered by mighty engines; Distinct 3.0 watches are also packed with robust movements that can last for generations.
The Miyota caliber 9015  is a 24 jewel automatic Japan movement equipped with a ball bearing rotor and works very precisely with 28,800 half oscillations per hour and has a power  reserve of 42 hours, and you will never need any batteries with this movement. The Distinct 3.0 series are also powered by Swiss Ronda Quartz Caliber 715 that keeps your time accurate for a very long time.
FINE AESTHETICS COUPLED WITH STRENGTH AND DURABILITY
Besides the long-lasting internal components, the external features like the case material constructed from high-quality stainless steel and the domed sapphire crystal glass are just as strong and sturdy yet extremely elegant.
The Italian Calf Leather straps further elevate the aesthetic value of this extraordinary watch, lending an aristocratic finish. Or if you want your watch to fully personify the Le Mans inspiration, you can opt for perforated racing style straps that are just as striking as they are strapping. What's more is that it offers a water resistance of 100 meters, so you can keep track of time even when you're snorkeling!
No one can say it any better than Steve McQueen in the 'The Man & Le Mans' documentary: "Racing is life. Anything that happens before or after is just waiting." Whether you're waiting or living your passion, make every minute count. Strap on the Distinct 3.0 GLF and embody the spirit of the Le Mans and never lose track of your most precious asset: time.
AS SEEN ON
Customer Reviews
08/01/2022
Dean K.

Canada
Distinct 3 Petrol
I was first introduced to the Ferro & Co. watches through an advert in a PCA (Porsche Club of America)magazine. I became more interested as I read about this Company (Ferro brothers), it's philosophy towards watch design and product line. Naturally, as a former Vancouverite, Porsche owner and watch collector I just had to have one. I selected the Distinct 3 Petrol with the Miyota 9015 auto movement. I have been enamored of late with Japanese watches/movements and hope to one day obtain a Grand Seiko Snowflake piece of art. I have had the Petrol for about a month now and it has become my daily wearer! I enjoy the design particularly the double Sapphire crystal, beautiful dial with single hand and comfortable leather strap. It keeps accurate time. This black watch goes well with my black 986 S! The service from Ferro & Co. has been an enjoyable experience. Delivery was fast and to my door. I have no complaints from day one and I am very satisfied with this purchase. I look forward to the future of this Company and excellent watch collections.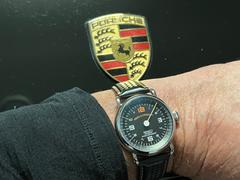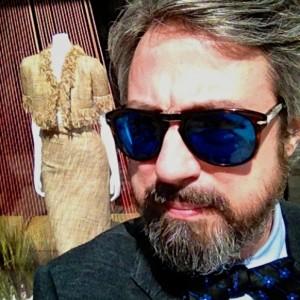 MR
03/03/2021
Mark R.

Japan
Distinct 3.0 Petrol, Swiss movement
I'm so glad I also ordered the Petrol version to go with my GLF. The black face is very easy to read and suits a wide variety of situations from business to casual. It looks very elegant. This is a great quality watch and I'm very satisfied with my purchase and the great service from the folks at Ferro & Company.
12/04/2022
Martin S.

Canada
Quality from start to finish
I have had my eye on this watch for a little while and wanted it before I circumnavigat Canada via car. After contacting the company and they assured me the watch would be in my hands in time I placed my order. Not only did it arrive on time but it arrived early. The watch styling and craftmenship are of a level expected of much higher priced watch and the exhibition back is an added bonus not to be ignored. Since getting the watch it has not been off my wrist. Reading the time on the one handed District 3 is so intuative that it maks you wonder why a solid attempt was never pulled of before. I cannot say enough about the fit and finish. It is the perfect watch for a quick glance at your wrist. I highly recommend this company and while in Vancouver hope to have an opportunity to drive by their facility.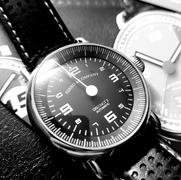 09/02/2022
Jeffrey S.

United States
Vintage Style Race One hand Watch Petrol
I love the watch. It looks great and keeps time accurately. I would like the leather strap to be just a bit longer, though. I am not a huge guy, but the band is a little too short. I did not see longer leather bands available in the accessories section of your website.
13/01/2022
Eric M.

United States
Awesome watch...Very elegant. Many nice compliments on my purchase.
Very fast shipping and a pleasant experience. Highly recommended.
THE WATCH
Good overall experience! Love everything about the watch. The only negative is that I did not have an option for a larger band as the watch band that came with it did not fit my wrist.
19/10/2021
Joseph L.

United Kingdom
Perfect time piece
I have followed Ferro since 2014 and I have always aspired to own one of their products. In 2020 my girlfriend bought me one as a Christmas present. I love the watch, the quality is superb and I wear it on all special occasions. I highly recommend the product to anyone looking for a new watch.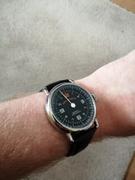 19/10/2021
Joseph L.

United Kingdom
Perfect time piece
I have followed Ferro on their journey since 2014, I love the products and I have always aspired to own one. In 2021 my girlfriend bought one as a gift for me and I have used it as my watch of choice ever since. The leather quality is superb, the design is brilliant and I use it as my timepiece during all special events. I highly recommend Ferro products to anyone looking for a watch.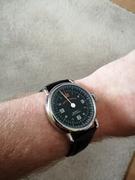 18/10/2021
Noel V.

United States
29/09/2021
János

Hungary
outstanding watch
simple spectacular... :)