$349.00 USD
$999.00 USD
Distinct 3.0 GLF
Distinct 3.0 GLF Edition inspired by vintage Le Mans race.
DIMENSIONS
CASE: 42 MM
LUG: 22 MM
LUG TO LUG: 48 MM
STRAPS: 22 MM
THICKNESS: 13.1 MM WITH TOP GLASS
CROWN: 8 MM
SPECS
CASE MATERIAL: STAINLESS STEEL
GLASS: DOMED SAPPHIRE CRYSTAL
STRAPS: ITALIAN CALF LEATHER / PERFORATED RACING STYLE
MOVEMENT: SWISS AUTOMATIC ETA 2824 OR JAPAN AUTOMATIC MIYOTA 9015 OR SWISS QUARTZ
WATER RESISTANCE: 100 METERS
Distinct 3.0 GLF
The Distinct 3.0 GLF is a watch like no other. It is truly distinct, as it's inspired by Classic Le Mans, the prestigious vintage race that conjures images of intense excitement and thrills. It doesn't get more adrenaline-pumping than the action-packed scene at this race, which is held annually near the historic and beautiful town of Le Mans in France.
Sleek sports cars designed to perfection and propelled by engines that have undergone several rounds of thorough test runs push the limits of stability at incredibly high speeds. The race underscores reliability, fuel-efficiency, and excellent aerodynamics as cars push the proverbial envelope in this endurance race filled with pressure and nail-biting moments.
Similarly the Distinct 3.0 analog watch, inspired by the legendary race, has been carefully engineered to perfection. Ranging from its design and high-quality components made of fine materials to its thorough specifications and precise and fool-proof movements, everything about this watch is flawless.
Built to Last with Robust Movements
Like the historic car race that inspired it, the Distinct 3.0 GLF has been crafted to last for generations, embodying endurance and a robust performance. Its nonstop movements reflect the 24-hour bustling action packed activity at the much-awaited race. Take your pick from Swiss Quartz, Swiss Automatic, and Japan Automatic as the Distinct 3.0 leverages the power of these precise movements that last for a very long time, eliminating the need for any batteries (except the quartz movement).
The Distinct 3.0 watches are driven by intricate movements that can last for generations, celebrating strength and survival. The Swiss Made ETA caliber 2824 - one of the most well-known and most recognized movements in the watch industry – is highly valued, with its 25 jewels with 36 hours of power reserve.
The Miyota caliber 9015 boasts of a ball bearing rotor, 24 jewels, and a power reserve of 42 hours. It is an automatic Japan movement that works very precisely with 28,800 half oscillations per hour.
The watch truly exemplifies the built-to-last fortitude that is relentlessly tested in the Le Mans. Furthermore, it makes it extremely easy for you to keep track of time, of which every second counts throughout the thrilling, highly anticipated race every year.
Fine Aesthetics Coupled with Strength and Durability
Besides the long-lasting internal components, the external features like the case material constructed from high-quality stainless steel and the domed sapphire crystal glass are just as strong and sturdy yet extremely elegant.
The Italian Calf Leather straps further elevate the aesthetic value of this extraordinary watch, lending an aristocratic finish. Or if you want your watch to fully personify the Le Mans inspiration, you can opt for perforated racing style straps that are just as striking as they are strapping. What's more is that it offers a water resistance of 100 meters, so you can keep track of time even when you're snorkeling!
No one can say it any better than Steve McQueen in the 'The Man & Le Mans' documentary: "Racing is life. Anything that happens before or after is just waiting." Whether you're waiting or living your passion, make every minute count. Strap on the Distinct 3.0 GLF and embody the spirit of the Le Mans and never lose track of your most precious asset: time.
Customer Reviews
30/10/2020
Hal J.
United States
I recommend this product
Excellent
The watch arrived in an impressive wooden box. The watch is amazing. The look is striking. The domed crystal, the recessed face, the gulf blue dial with the orange stripe AND ONE HAND. I love it. The movement is finished to a very high quality. I have been a watch collector for 25 years and this is the most unique , high quality watch for under 4 figures I have ever had the pleasure of owning/wearing! BTW the lume has an amazing look at night. Thank you to the whole team!!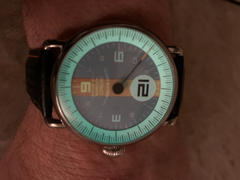 30/10/2020
Anonymous
Chile
I recommend this product
Thanks
I received my Distinct 3.0 in perfect conditions, it look wonderful, I love it, it is a master piece
30/10/2020
Mike I.
United States
I recommend this product
Excellent watch pick on my part!
I bought this gorgeous watch as a graduation gift for a family member. Not sure who loves it more, the recipient or me, but I will be buying one myself! The good folks at Ferro provided great customer service as well, in regards to shipping updates and post purchase questions.
MW
30/10/2020
Marc W.
Switzerland
I recommend this product
Just perfect!
A really nice watch. Goes very well with my MINI Cooper S Cabrio and the Grand Prix Originals GULF leather jacket. Le Mans feeling on the wrist, great!
30/10/2020
Anonymous
Denmark
I recommend this product
World Class Watch
Beautifully crafted and loads of style. Easy to read time. Everything about this watch is top tier
29/10/2020
Anonymous
United States
I recommend this product
Gulf Porsche watch
Well worth the wait. Unique and stylish.
29/10/2020
Anonymous
Belgium
29/10/2020
Anonymous
United States
I recommend this product
Distinct 3.0 Reviewi
I preordered Distint 3.0. Although it took awhile, it finally came and it was worth it. The watch is very different as far as timekeeping and very attractive. As far as I can tell there is nothing like it out in the watch market. I collect watches: Breitling, Rolex, Cartier, etc., and I appreciate Ferro & Co.'s originality of design.
29/10/2020
Bruce H.
United States
I recommend this product
Great Looing Watch
I wasn't sure I would like the single hand; no second hand, but it easy to read and simple to set. Only caveat is, when the watch arrived it had no power and for some weird reason I couldn't set the time. I put it in mind Wolf watch winder for a couple of days and now it works flawlessly.
29/10/2020
Anonymous
United States
I recommend this product
Love the Watch.
Just got the watch and love it. Thank you Bob and Ferro & Company